Details
Join us in building a community movement to ensure that all kids get the care they need when they need it most.
Fundraise and share your story leading up, then walk in recognition of our Patient Champions, our Children's community, and UPMC Children's staff.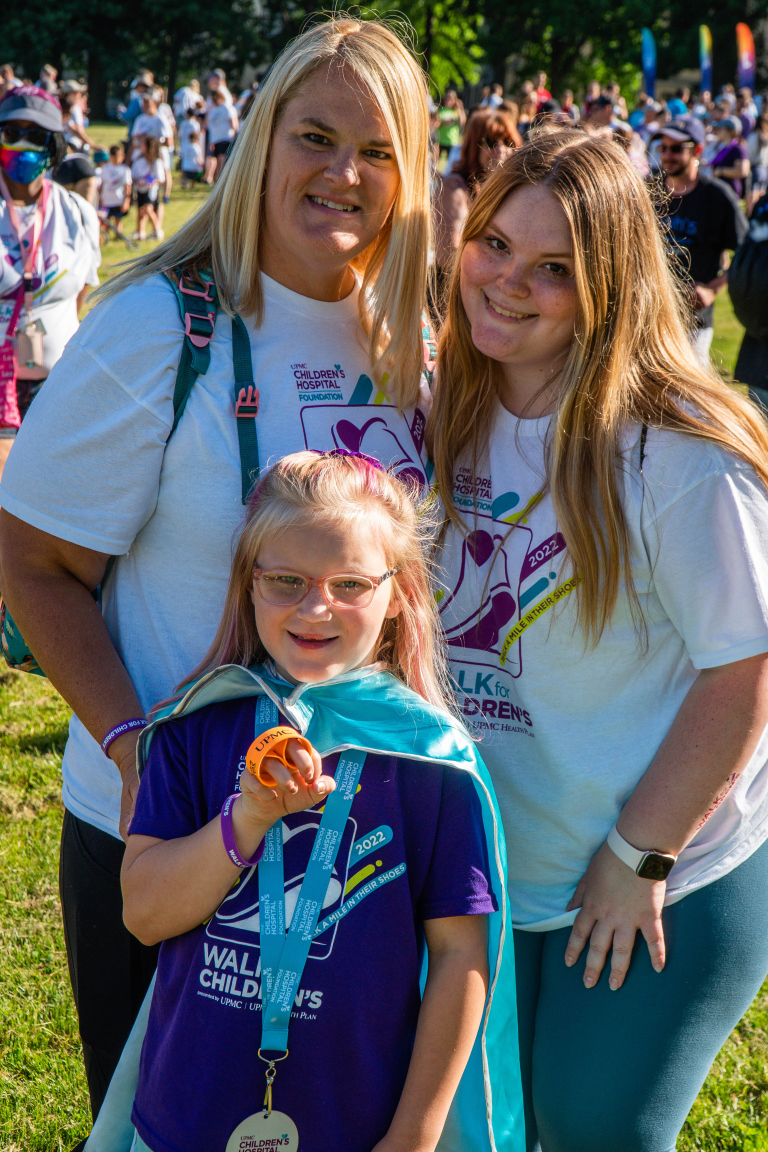 How to join
Walk In Person
Date: Saturday, June 3, 2023
Location: Flagstaff Hill at Schenley Park
Walk Routes: 3 options
½ mile mini loop
1 mile turn around
2 mile full route
Parking & Shuttles: Parking will be available with shuttle service running on a continuous loop from garages to Flagstaff Hill. There will be no parking on Schenley Drive next to Flagstaff Hill due to road closures for the walk course. More details will be shared as we get closer to the event.
Shuttles: Beginning at 7:45 a.m., shuttles will run on a continuous loop from East Campus, Morewood, and Posvar Garages
Timeline:
7:45 a.m. – Shuttles Start (continuous loop)
8:00 a.m. – Event Entry and Activities Start
9:30 a.m. - Program and Walk
1:00 p.m. - Walk ends
Activities: multiple photo opportunities, give-a-ways, and more
Walk. Stroll. Roll. Climb. Run. Jump. Skip.
Walk Your Way
No matter where you are from - Alaska, Hawaii, Canada, stationed overseas, down the street, and everywhere in between - you can join the celebration from wherever you are when you Walk Your Way.
Have fun, get creative, and Walk Your Way!
Walk at home
with friends and family

Host a walk
in your neighborhood

Run in your local park
on walk day

Climb stairs
with your little ones

Skip around
the house

Walk on a
treadmill
* Register as a Virtual Participant during registration.
**All virtual team captains will receive a Walk in the Box full of items to help host a Walk at home.
Route Maps
Be sure to tag @ChildrensPGH and #WalkForChildrens for a chance to be featured on social media or in our celebration video!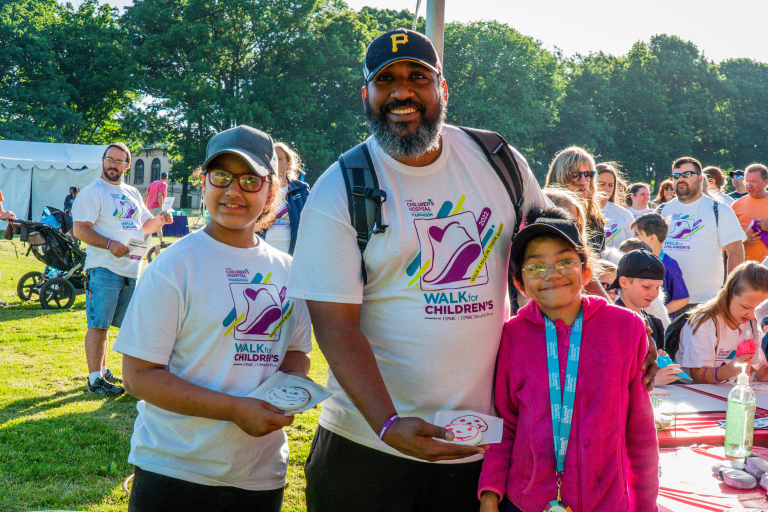 Celebrate
Join the thousands of families, staff, and community members like you as we walk in support and in celebration of our patients. This day will be filled with inspiring stories, patient champion highlights, and feel-good moments that will make you feel proud to be involved.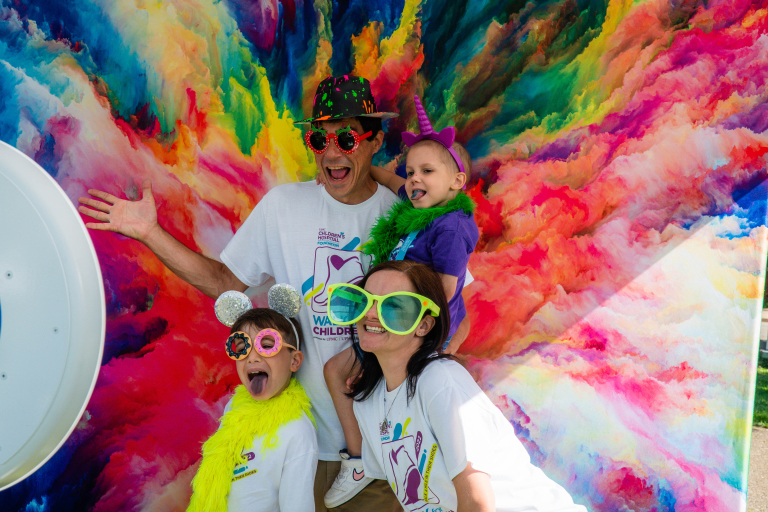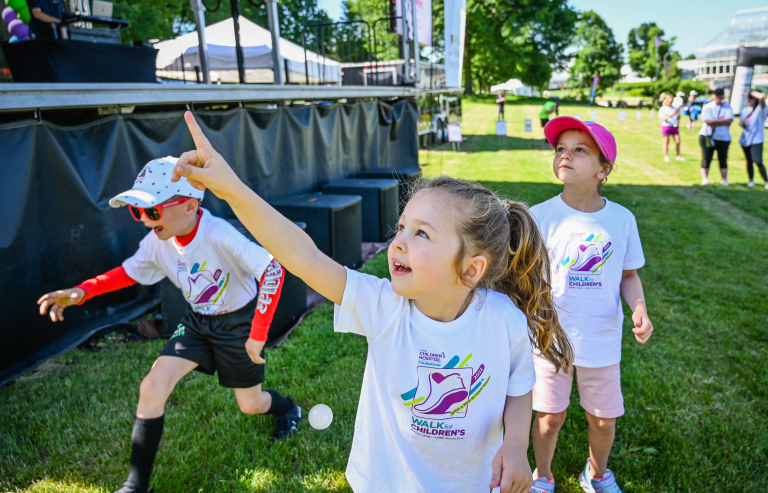 Fundraise
Interested in helping more families or giving back to the hospital that cared for your loved one? In the weeks leading up to Walk, we'll have fun challenges and contests that will get the whole family excited and involved. For more ideas on how to raise money and hit your personal and team goals, visit our Fundraising page.
Share Why You Walk
Leading up to and on the day of Walk, share your story and photos. Update your participant page and share why or who you walk for. Take photos and videos and share on social media using #WalkforChildrens. Help by sharing with others what UPMC Children's Hospital has meant to you and your family. Spread the word!
Social Sharing Tip: take a photo in your shirt or video of your patient champion receiving their medal and share it using the #WalkforChildrens hashtag and tagging us at @ChildrensPgh.
No matter where you are, you'll be able to join in and celebrate the patients, the expert care, and the groundbreaking research being discovered at UPMC Children's.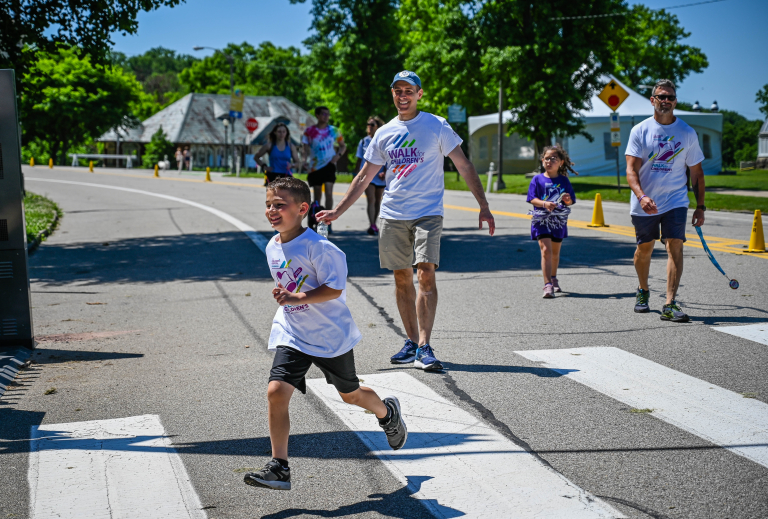 Thank you to our Walk Committee 2023
Greg Lignelli, Co-Chair
Jake Ploeger, Chair
Maris Dauer
Jarrod J. Duffy
Lawrence N. Gumberg
Jamie Rogers
Josh Roberts
Mark A. Snyder
John A. Staley V
Nicholas D. Varischetti