Fundraise
Philanthropy touches every medical service we offer, every stop along a patient's journey, and every groundbreaking idea yet to be discovered. It's what transforms a scary day of surgery into a treasure map adventure leading a child to a favorite toy at discharge. And it's where life-saving research is born through creative collaborations.
You help make this possible with your support of Walk for Children's 2022 presented by UPMC and UPMC Health Plan.
Visit our FAQ page for answers to your Walk for Children's questions.
Online Fundraising Badges
We will be recognizing our most committed walkers with fun online Walk badges. There are badges for different milestones – how much you or your team raises, if you're a patient champion, and many more. Badges will automatically be added to your page once you hit the milestone.
Challenge your friends, family, and teammates to see who can collect the most badges on their personal fundraising page. Some badge winners will be formally recognized leading up and on Walk day.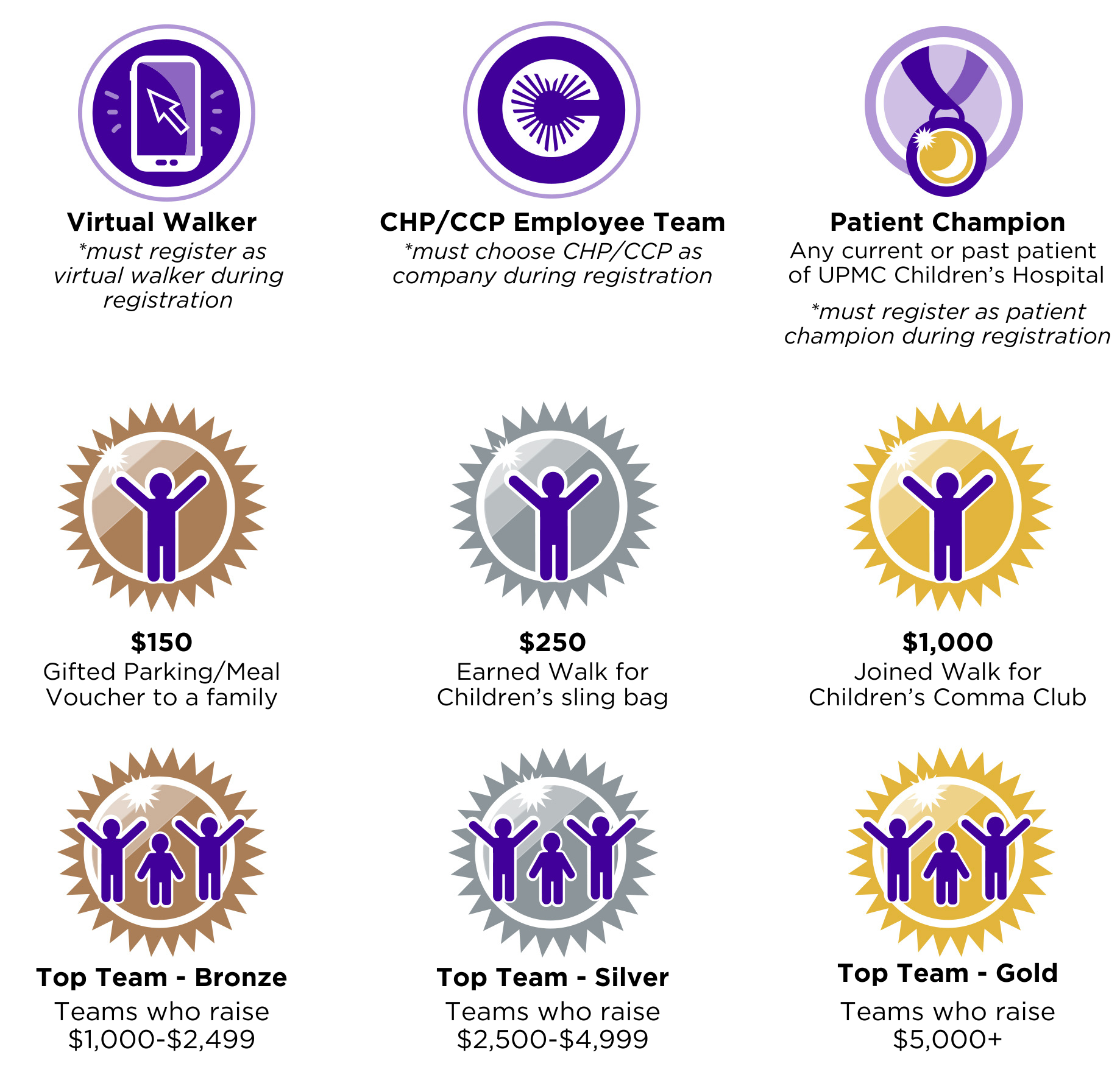 Helpful Fundraising Tools
Fundraising Tips
What's your Goal? Think about how much you want to raise and set your personal fundraising goal today. On average, walkers that personalize their page raise $275.
Be the First. Make the first donation and set the tone for your fundraising.
Share your Link. Once you've created your fundraising page, send the link to family, friends, co-workers, and neighbors!
Send a letter (mail or email). Write a personal note to family and friends sharing what UPMC Children's means to you, why you created a fundraising page, and encourage them to make a donation on your behalf.
Matching Gifts Use the search tool above to see if your company will match your donation.
Social Media Use social media to help get the word out about Walk, share with others what UPMC Children's has meant to you and your family, and ask others to donate to your page. Be sure to tag Children's (@childrenspgh) in your posts/stories and use the hashtag #WalkforChildrens.
HAVE FUN
See below for printable signs to use in your fundraising efforts or to get your kids excited for the event. Print and hang in your window, kitchen, office, post on social, or share with friends and family.
Matching Gifts
Does Your Company Match Charitable Donations?
Many businesses and corporations match charitable gifts (and volunteer hours) made by their employees, retirees, and employee spouses' dollar for dollar. To find out if your employer (or your spouse's employer) is one of the 17,000 companies that match gifts, please use our search tool below.
Donations
Checks should be made out to Children's Hospital of Pittsburgh Foundation and mailed to:
ATTN: Walk for Children's
Children's Hospital of Pittsburgh Foundation
PO Box 535240
Pittsburgh, PA 15253
All offline donations (such as cash or checks) you receive will need a donation form attached when you turn it in. Attaching the form will let us properly credit your fundraising page and also make sure that your supporters are acknowledged properly. Online gifts through your personal fundraising page do not need a donation form, as they are tracked automatically.
A Beginner's Guide to Fundraising
The first step on your journey to being an incredibly successful fundraiser is to prepare. Think about how you're going to fundraise, who you're going to ask to donate to this important cause, and why you're fundraising.
How will you fundraise?
There are countless ways to raise money for important causes like UPMC Children's Hospital of Pittsburgh, but that doesn't mean they're all going to work for you. Fundraising comes naturally to some people, while others might find it uncomfortable to ask people to contribute to their cause—if you're in this camp, we understand! To figure out what you feel most comfortable with and what methods will help you be most successful, you should first consider your hobbies and interests and how you can organically incorporate them into your fundraising efforts. Examples could be hosting an event or contest for your friends, family, and/or colleagues who are interested in the same things you are!
Who will you ask to donate?
Think about those with whom you interact regularly. Your friends, family members, colleagues, classmates, social media connections, and more—all of these individuals (and their contacts!) are potential donors! Why are you fundraising? Your why is the most important part of your fundraising efforts.
Why did you make this commitment in the first place?
More than likely, you have a strong connection with a child who is or was a patient at UPMC Children's Hospital of Pittsburgh, and you understand how critical it is to support Walk for Children's so that our patients receive the best care possible. Your story—your why—is powerful and motivating. Knowing your why and sharing your story can help bring awareness to Walk for Children's, spark interest in potential donors to contribute, and maybe even find others who have shared a similar experience.
These are just some things to think about as you start your fundraising efforts. We'll share more tips and ideas over the next several months to help you (and your team!) be as successful as possible!
Five Myths About Fundraising: BUSTED
We're sharing the top five myths about how hard it is to fundraise and the best ways for YOU to combat each one!
Myth 1: No one cares (about my fundraising efforts or why I'm fundraising)
Busted: Your friends and family don't know that they need to care if you haven't shared your WHY with them! You know exactly why you've chosen to participate and make a commitment to fundraising. If you don't share that WHY though, how are your friends and family supposed to know that this is important to you and that they can support you and your efforts very easily?
Myth 2: People think I'm greedy if I ask them for money
Busted: Asking people for money can be uncomfortable. Here's the thing, though: you're not asking for you. You're asking for your child. For your niece or nephew. For your grandchild. For your friend's child. You're asking for their child. For their niece or nephew. For their grandchild. For their friend's child. UPMC Children's Hospital of Pittsburgh treats children from all over the world, and you're asking for help and support for something far greater than yourself.
Myth 3: I can't do this
Busted: You don't need a background in fundraising to be a great fundraiser. All you need is your why—the reason you signed up for this year's Walk for Children's. You have an important story to tell, and your friends and family will want to support you.
Myth 4: Everyone will tell me "no"
Busted: While some connections might choose to not donate to your cause, several will recognize why it's so important to you (and to them and children in their community) and chip in a few dollars. For those who don't, simply thank them for considering and move to the next individual.
Myth 5: My story isn't special
Busted: Every parent will tell you that the experience of seeing their child spend any time in the hospital is one of the worst of their life. If you're that parent, or you know one of those parents, you have a story to tell. It's an important one, and sharing it is what's going to make this year's Walk for Children's a success.
How to Connect your Walk Fundraiser to Facebook
Did you know that your friends and family can donate to your campaign directly from Facebook? This makes it even easier to share your cause get everyone excited about Walk 2022!
Use these steps to connect your Walk fundraiser to Facebook:
Log into the Walk Website and access your participant center


Find the box that reads: Reach Your Goal Faster – Raise Money Directly on Facebook


Click the button 'Connect Fundraiser to Facebook'


A new window should open, prompting you to login to Facebook, or confirm your Facebook account info


Click 'OK' to allow Walk for Children's to fundraise via Facebook


Text from your Walk page will pull directly into your Facebook Fundraiser. You can still make edits to your Facebook fundraiser through Facebook. All the money you raise on Facebook will be reflected on your Walk page on the Walk for Children's website!
3 Fundraising Trends You May Have Missed
Throughout the years, fundraising has always had the same goal - to raise funds and support a specific cause. Every fundraising pro knows how to go about fundraising, but not everyone is an expert. We're here to help! Hereare three fundraising trends you may have missed:
Tip #1: Adding a Personalized Touch
Now that you've shared your Why, it's time to follow up with your friends and family. Sending out personalized letters, or even emails, will show them just how important your fundraising is to you. Friends and family are more likely to respond or donate if they know you're reaching out to each of them specifically. Have they already donated? Send them a thank you note! Having a tangible object in their hands reminds them that their donation really does help. Have your patient champion color them a picture, or even record a thank you video. The possibilities are endless!
Check out our example note below: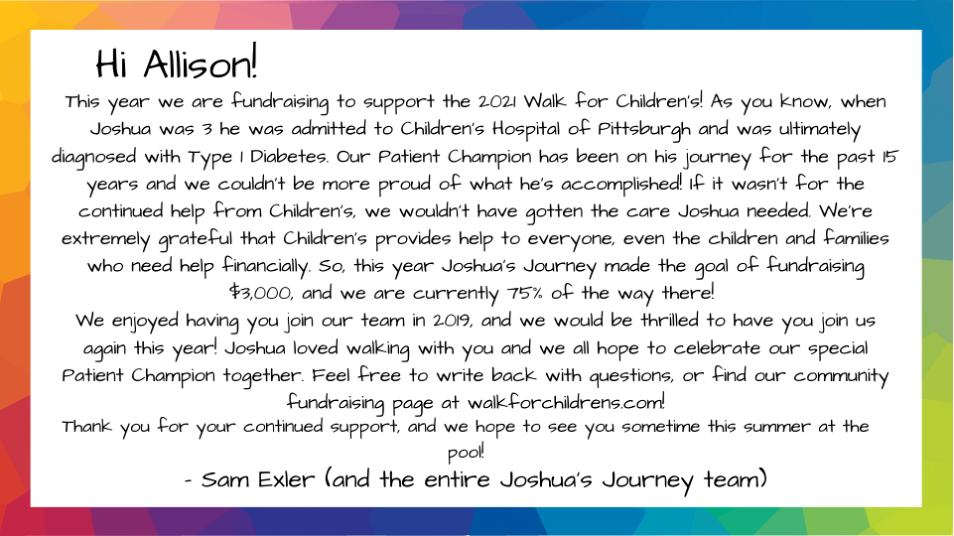 Tip #2: Challenge Your Friends and Family
With social media on the rise, a great way to encourage your friends and families involvement is to challenge them. Whether it's a personalized challenge or an individual challenge, the choice is yours!
Make a blog post or social media post asking people to stop buying their favorite coffee drinks or fast food for a week. At the end of the week, they can donate that money to your Walk Team! It's a great way to encouragepeople to save their money and donate it to a great cause instead of just spending it on coffee once a day.
Or, create a match challenge! Tell your friends for every $5 they donate on a particular day, you'll donate $1 in addition to theirs. So, if they donate $25, you'd donate an additional $5, bringing their total donation to $30. Don't beafraid to get creative with your challenges!
Tip #3: Facebook Fundraising
While most people may already use Facebook Fundraising, it's still one of the latest fundraising trends in 2022. This tool allows you to reach your friends and family, but it also allows you to reach new people. Your personalized Facebook fundraising page will already tell your story, so now you just have to share it to raise awareness!
If only three people share your page, you will still have hundreds of new eyes seeing it. The goal for the page isn't necessarily for you to share it, but for your friends, and your friends of friends to share it. The more networks they share it to, the more people you will reach and share your story with!
Expectations vs. Reality: When Your Child Is Admitted to Children's
Shared by a UPMC Children's Mom
---
In December 2019, my almost one-year-old son had what my husband and I thought was a really bad cold. I took him to his pediatrician's office where he received a treatment for croup to help him breathe more easily, and I stayed home from work to be with him. Two days later, when we removed his shirt and saw his chest retracting, we knew it was more than croup.
Once we were in an exam room at his pediatrician's office, the doctor took one look at our sweet little boy and said some scary words: "He needs to go to the ER." She left to call an ambulance, leaving my husband and me with looks of horror on our faces and tears streaming down my cheeks as I held our crying and scared son.
Expectation: Everyone will rush around like on a TV medical drama.
Reality: This couldn't be further from the truth. From the EMTs who met us at the pediatrician's office to the nurses and doctors who worked with us in the emergency room at Children's, not one person rushed. Everyone was deliberate and calm. At the time, it felt like they weren't taking it as seriously as I wanted them to. Looking back, though, I know that it's their job to remain calm and composed while facing an emergency - they actually helped keep me calmer than I would have been if they had met my level of urgency and terror.
Expectation: The doctors and nurses have so many patients that they won't have time for questions.
Reality: While I have no doubt the doctors and nurses were incredibly busy, they always took the time to listen to our concerns and fears and answered all of our questions as completely as they could.
Expectation: They will be impatient.
Reality: Wrong. Wrong. Wrong. From the second the experts at Children's Hospital of Pittsburgh met our son, they were so understanding that he was just a baby. They brought him toys, tried different tactics to keep him distracted while they put in an IV, and tolerated when he kept grabbing at their masks (Keep in mind this was pre-COVID - he had never seen anyone with a mask before!).
Expectation: We'll be separated from our child while they take him for tests.
Reality: They never even made me stop holding him the entire time we were in the ER. When it was time to move him to the PICU, I still didn't have to let him go: they told me to sit on the gurney and they wheeled us together.
Expectation: We won't understand what's happening.
Reality: The doctors and nurses explained everything to us in simple terms that we could understand. They could tell if we had follow-up questions and wouldn't leave unless they were confident we knew everything we needed to know.
Expectation: We'll get kicked out as soon as the treatment is over.
Reality: After one night in the PICU, the doctors recommended that we stay for one more night just so they could observe our little guy and be 100% sure. They didn't want us to need to return.
Expectation: We'll be in a sterile, uninviting environment.
Reality: Sterile? Yes. Uninviting? Far from it. Children's Hospital of Pittsburgh offered such a welcoming environment that kept our son entertained (when he was feeling up to it) and helped our family feel safe. While our son wasn't even a year old yet, we saw children taking part in activities like painting, reading, music, and more.
---
Realizing your child needs to be in a hospital will never NOT be scary. It was definitely the scariest experience of my life. But the team at Children's Hospital of Pittsburgh took excellent care of our son AND made sure that our experience wasn't scarier than it had to be. While I hope we never have to go back, I know that if we do my son will receive the best care possible no matter what.
North Park Route Map
South Park Route Map