Fundraise
Philanthropy touches every medical service we offer, every stop along a patient's journey, and every groundbreaking idea yet to be discovered. It's what transforms a scary day of surgery into a treasure map adventure leading a child to a favorite toy at discharge. And it's where life-saving research is born through creative collaborations.
You help make this possible with your support of Walk for Children's 2021 presented by UPMC and UPMC Health Plan.
Visit our FAQ page for answers to your Walk for Children's questions.
Online Fundraising Badges
We will be recognizing our most committed walkers with fun online Walk badges. There are badges for different milestones – how much you or your team raises, if you're a patient champion, and many more. Badges will automatically be added to your page once you hit the milestone.
Challenge your friends, family, and teammates to see who can collect the most badges on their personal fundraising page. Some badge winners will be formally recognized leading up and on Walk day.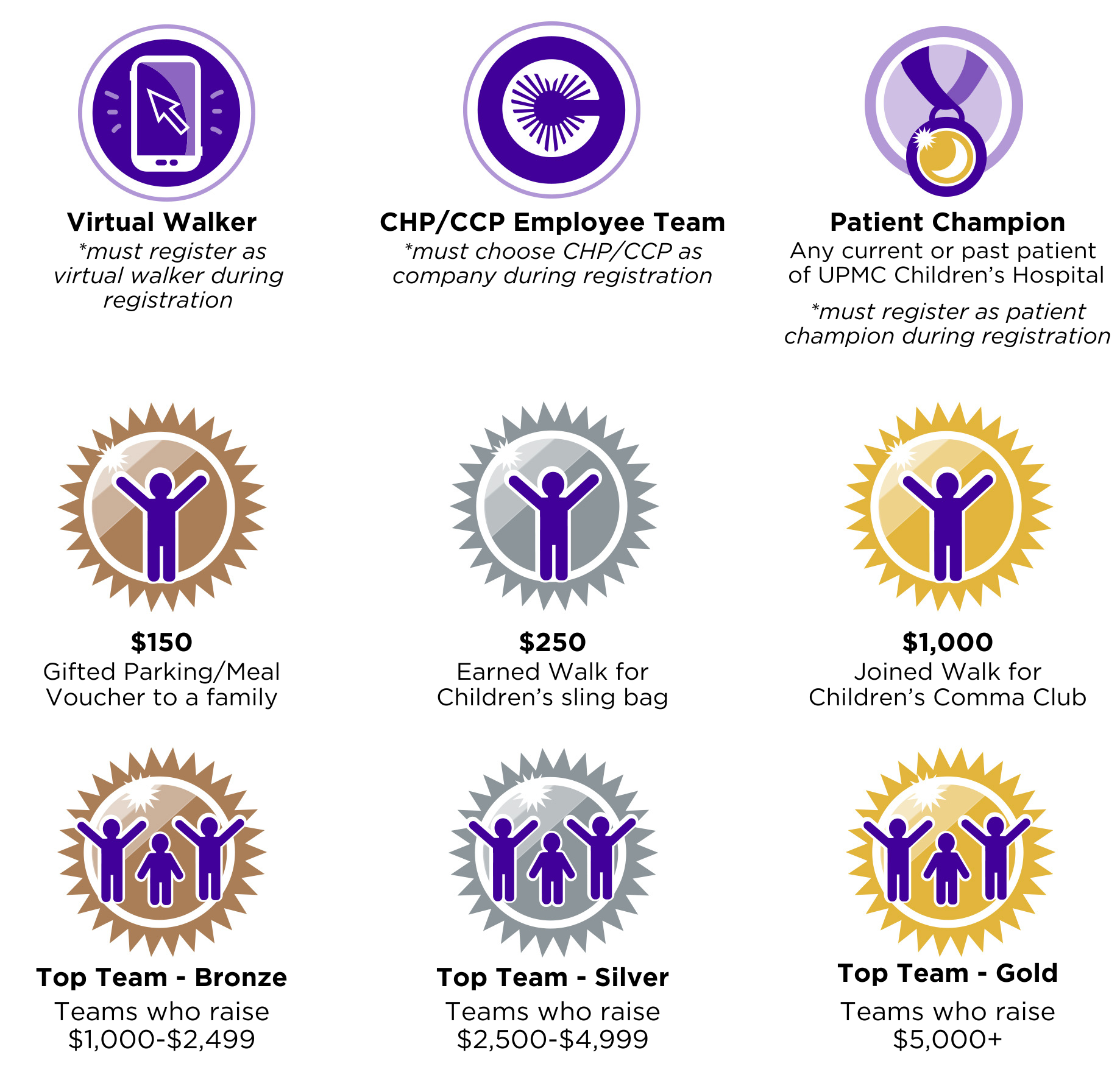 Helpful Fundraising Tools
Fundraising Tips
What's your Goal? Think about how much you want to raise and set your personal fundraising goal today. On average, walkers that personalize their page raise $275.
Be the First. Make the first donation and set the tone for your fundraising.
Share your Link. Once you've created your fundraising page, send the link to family, friends, co-workers, and neighbors!
Send a letter (mail or email). Write a personal note to family and friends sharing what UPMC Children's means to you, why you created a fundraising page, and encourage them to make a donation on your behalf.
Matching Gifts Use the search tool above to see if your company will match your donation.
Social Media Use social media to help get the word out about Walk, share with others what UPMC Children's has meant to you and your family, and ask others to donate to your page. Be sure to tag Children's (@childrenspgh) in your posts/stories and use the hashtag #WalkforChildrens.
HAVE FUN
See below for printable signs to use in your fundraising efforts or to get your kids excited for the event. Print and hang in your window, kitchen, office, post on social, or share with friends and family.
Matching Gifts
Does Your Company Match Charitable Donations?
Many businesses and corporations match charitable gifts (and volunteer hours) made by their employees, retirees, and employee spouses' dollar for dollar. To find out if your employer (or your spouse's employer) is one of the 17,000 companies that match gifts, please use our search tool below.
Donations
Checks should be made out to Children's Hospital of Pittsburgh Foundation and mailed to:
ATTN: Walk for Children's
Children's Hospital of Pittsburgh Foundation
PO Box 535240
Pittsburgh, PA 15253
All offline donations (such as cash or checks) you receive will need a donation form attached when you turn it in. Attaching the form will let us properly credit your fundraising page and also make sure that your supporters are acknowledged properly. Online gifts through your personal fundraising page do not need a donation form, as they are tracked automatically.
A Beginner's Guide to Fundraising
The first step on your journey to being an incredibly successful fundraiser is to prepare. Think about how you're going to fundraise, who you're going to ask to donate to this important cause, and why you're fundraising.
How will you fundraise?
There are countless ways to raise money for important causes like UPMC Children's Hospital of Pittsburgh, but that doesn't mean they're all going to work for you. Fundraising comes naturally to some people, while others might find it uncomfortable to ask people to contribute to their cause—if you're in this camp, we understand! To figure out what you feel most comfortable with and what methods will help you be most successful, you should first consider your hobbies and interests and how you can organically incorporate them into your fundraising efforts. Examples could be hosting an event or contest for your friends, family, and/or colleagues who are interested in the same things you are!
Who will you ask to donate?
Think about those with whom you interact regularly. Your friends, family members, colleagues, classmates, social media connections, and more—all of these individuals (and their contacts!) are potential donors! Why are you fundraising? Your why is the most important part of your fundraising efforts.
Why did you make this commitment in the first place?
More than likely, you have a strong connection with a child who is or was a patient at UPMC Children's Hospital of Pittsburgh, and you understand how critical it is to support Walk for Children's so that our patients receive the best care possible. Your story—your why—is powerful and motivating. Knowing your why and sharing your story can help bring awareness to Walk for Children's, spark interest in potential donors to contribute, and maybe even find others who have shared a similar experience.
These are just some things to think about as you start your fundraising efforts. We'll share more tips and ideas over the next several months to help you (and your team!) be as successful as possible!
Five Myths About Fundraising: BUSTED
We're sharing the top five myths about how hard it is to fundraise and the best ways for YOU to combat each one!
Myth 1: No one cares (about my fundraising efforts or why I'm fundraising)
Busted: Your friends and family don't know that they need to care if you haven't shared your WHY with them! You know exactly why you've chosen to participate and make a commitment to fundraising. If you don't share that WHY though, how are your friends and family supposed to know that this is important to you and that they can support you and your efforts very easily?
Myth 2: People think I'm greedy if I ask them for money
Busted: Asking people for money can be uncomfortable. Here's the thing, though: you're not asking for you. You're asking for your child. For your niece or nephew. For your grandchild. For your friend's child. You're asking for their child. For their niece or nephew. For their grandchild. For their friend's child. UPMC Children's Hospital of Pittsburgh treats children from all over the world, and you're asking for help and support for something far greater than yourself.
Myth 3: I can't do this
Busted: You don't need a background in fundraising to be a great fundraiser. All you need is your why—the reason you signed up for this year's Walk for Children's. You have an important story to tell, and your friends and family will want to support you.
Myth 4: Everyone will tell me "no"
Busted: While some connections might choose to not donate to your cause, several will recognize why it's so important to you (and to them and children in their community) and chip in a few dollars. For those who don't, simply thank them for considering and move to the next individual.
Myth 5: My story isn't special
Busted: Every parent will tell you that the experience of seeing their child spend any time in the hospital is one of the worst of their life. If you're that parent, or you know one of those parents, you have a story to tell. It's an important one, and sharing it is what's going to make this year's Walk for Children's a success.